Be inspired by these suggestions of themes for your loved ones' 21st wedding anniversary, as you can combine these themes, colours and items to make a thoughtful gift.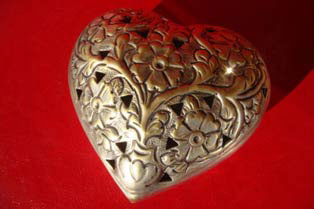 Modern 21st Anniversary Theme for Gifts: Brass or Nickel
Representing a durable relationship, brass also has a symbolism of goodness.
Nickel has a symbolism of wellbeing of emotions and encourages the couple to banish negativity and boost their creativity.
Gemstone: Iolite
Colour: Orange
Floral Theme: NA
Modern Anniversary Gift Suggestions
• Brass home items (vase, goblets/mugs, plates, dishes, bowls, clock, candle holder, bookends)
• Brass musical instruments
• Brass ornaments and accessories (figurine, sculpture, photo frame, jewellery box, watch)
• Iolite jewellery
• Nickel home items and accessories (candle holder, door knocker, jewellery box, card case, cufflinks, letter opener, money clip, lamp)
• Nickel coin collection
• Nickel or brass jewellery (necklace, earrings, ring, bracelet)
And below are your next 5 anniversary gift themes:
22nd wedding anniversary gift ideas | 23rd wedding anniversary gift ideas | 24th wedding anniversary gift ideas |
25th wedding anniversary gift ideas | 26th wedding anniversary gift ideas |