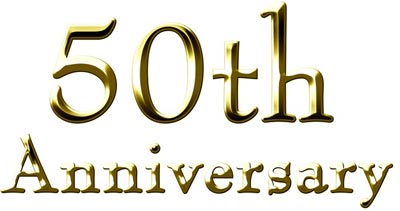 Here are Some Ideas on How to Celebrate a Golden Wedding Anniversary

Reaching 50 years of marriage is quite an achievement, and one very popular reason for having a celebration. Unfortunately it doesn't happen too often in today's modern times, as the rate of divorce and separation is a staggering 50%. All the more reason to make as much as you can of such a milestone, and wish your partner or the happy couple many more years to come. Life isn't very kind to relationships, regularly throwing a spanner into the works, but with strength and determination, a strong marriage will work its way through difficult times and come out the other side all the more strong. However you choose to celebrate a golden wedding anniversary, make sure it pays homage to the characters involved, and holds them up to be shining examples of the way married life should be. Let's take a look at some of the different ways you can celebrate, and hopefully aid you, whether you have friends or family who are reaching the half-a-century, or you're one of the happy couple yourself.
We think it's pretty safe to say that you are looking for a suitable golden wedding anniversary gift, and we're pleased to tell you you're definitely in the right place. But don't take our word for it because we're possibly a little biased. Take a moment and read some of our testimonials, we're sure you'll like what our customers are saying about The Eternity Rose.
One thing we've noticed when talking to our customers, is that many are disappointed with the range of gifts available, and how they've all become a little humdrum. Gold plates, rings, mugs, knives, pens, even a gold number 50 have all become so boring - where's the imagination in giving such a gift? Our customers then go on to praise us for the originality and uniqueness of our roses, dipped in a precious metal to match the occasion - they've never seen anything so beautiful and exclusive. For the 50th Golden Wedding Anniversary, nothing is more befitting than a gold-dipped Eternity Rose.

Roses have been assigned the symbol of undying love for decades, but we've found a way to make that symbol last forever. Not just for the lifetime of the receiver, but for future generations to come. An everlasting token of love and affection, that can be passed on to influence future family members. The Eternity Rose is coated in a precious metal like gold, silver or platinum, and presented in a high quality leather display case that can sit proudly on show for many years to come.
Our customers may also take the opportunity to make this perfect gift even more personal by engraving the stem with some well chosen words. Here are a few ideas for the engravings:
• Names of the happy couple, date and location of the wedding
• Fred and Grace - together forever xx
• May this 50th wedding anniversary be just a short stop on our journey of happiness
• In celebration of half a century of wedded bliss xx love you always xx
We're pretty confident that the gift of an Eternity Rose is much more than a symbol of 50 years of marriage. It represents the beauty of such an enduring relationship, and the everlasting nature of a successful bond between two people who love each other, and are willing to be friends and lovers forever.
Wedding Anniversaries Have Been Celebrated for Hundreds of Years
The current list of wedding anniversary symbols was created by the American National Retail Jeweller Association, when they chose to revamp and add to a list that was already in place. Traditions vary right across the globe, but this list that was created in 1937, has become one that many countries follow, particularly in the Western world. The whole idea of celebrating the number of years a couple have been married can be traced back to the Holy Roman Empire, when a husband gave his wife a wreath of silver to celebrate 25 years of marriage, and a gold wreath to mark 50 years together as man and wife.
Medieval Germany is also hailed as the origin of marking a wedding anniversary. But then it was friends and neighbours who gave the silver or gold wreath to the wife, as a way of congratulating the couple for reaching such an important stage in their marriage. Gold is associated with optimism and wealth, two important elements of a successful marriage - and this doesn't necessarily mean plenty of money, but more likely a wealth of love, affection and good health. Gold is also recognised for its beauty, strength and resistance to corrosion, three more things that make a marriage last as long as half a century.
Time to Make Plans for a Golden Wedding Anniversary
Whether the anniversary is yours or that of friends or family, don't let the moment pass without bringing out the flags. Time passes on rather quickly, with little time to reflect on the positives. 50 years of marriage is definitely worth marking the occasion, with a gift, party, memorable holiday, and at least doing something new, if only for one day. Here are a few ideas on how you can celebrate a golden wedding anniversary:
• Enjoy a meal together in the company of friends or family - use gold for the decorations, at the table, and anywhere possible round the room. Use china and glasses with gold trim, gold tablecloths, gold candles and flowers in gold-coloured vases.
• Request a greeting from someone important - Australian and Canadian residents can receive greetings from the Governor General; US citizens can request solicitations from the President, and Roman Catholics can ask for a Papal Blessing from the Pope.
• Renew your vows - what better way to show your other half the strength of your bond, than by saying "I do" all over again. It will also demonstrate your commitment to each other for many more years into the future.
• Plan a picnic somewhere special - take yourselves off and enjoy a romantic picnic, either somewhere you've both dreamed of going to, or back to a spot that has significance for your relationship. Include gold paper plates, your favourite food and a bottle of wine or champagne.
• Plan a get-together with old friends and distant relatives - families and friends today rarely stay in one place for any length of time. Families grow up and move away, and friends take themselves off to pastures new, with little opportunity to get back together and talk through good times, and even bad. Celebrating a golden wedding is an excellent excuse to get everyone you know back in one place, at least for a short time.
Show Them That You Care With a Handmade Golden Wedding Anniversary Gift
Making a handmade gift for your loved one will show them that they hold a special place in your heart. Whatever you create might not be worthy of a place in an art gallery, but taking the time and effort to make something of your own will hold much more meaning than an item exchanged for cash at the store. Why not try your hand at one of the following?
Create a golden wedding anniversary video or collage - gather together some pictures and videos that have been taken over the years, and put them together along with some romantic music. This is a great way to help you both recall fond memories. You can even enlist the help of family and friends. Why not ask for personal contributions in the form of wishes and thoughts? There are lots of free software programs on the internet to help you create the perfect gift. If you don't feel you have the skills for a video, a collection of photos in the form of a collage will work equally well. Rather than having to flick through a photo album, all the memories can be viewed in one place.
Make a scrapbook containing 50 reasons why you're the best couple in the world - on each page of the scrapbook, give a reason why you've managed to stay together for so long, along with an appropriate quote and picture.
Draw a pencil sketch from an old photo - you might not think you have the skills to create a work of art, but with a little practise, you'll be amazed at what you can actually achieve. If you find drawing a bit of a challenge, you could always trace the picture and then fill in the details. Frame your gift in a golden frame, and your partner will be stunned and amazed.
For a range of other handmade anniversary gifts, you can read our article here for a list of inspiring ideas.

Decorating a Room for Your Golden Wedding Anniversary Day
Living together as a married couple is a great reason to do something special to celebrate the day, and bring back fond memories from the years spent together. Here are a few tips on decorating a room for that noteworthy day.
Choose a colour scheme - decorating a room for a golden wedding anniversary is not too difficult, because the colour has already been chosen for you. You can add accents of gold to almost any setting by using some of the many decorations available online, from stores such as Amazon, Ebay and Etsy. Other colours that complement gold very well include white, pale pink, green and a luxurious red.
Make a banner - get yourself some gold and white card paper, and cut out some heart shapes. Decorate the ends of the banner with gold and white balloons, tied together with gold ribbon. You can also make your very own table mats, place names and cake toppers.
Famous Quotes You Can Include in Your Golden Wedding Scrapbook
If you're struggling to find those special words to fill your scrapbook, let's help you out with a few famous quotes.
"A successful marriage requires falling in love many times, always with the same person"
Quoted by Mignon McLaughlin
"Being deeply loved by someone gives you strength, while loving someone deeply gives you courage."
Quoted by Lao Tzu
"Love is the emblem of eternity, it confounds all notion of time, effaces all memory of a beginning, all fear of an end".
Quoted by Germaine de Stael
"Love is composed of a single soul inhabiting two bodies."
Quoted by Aristotle
"Love is the condition in which the happiness of another person is essential to your own."
Quoted by Robert Heinlein
"Two souls with but a single thought, Two hearts that beat as one".
Quoted by Friedrich Halm
"I wouldn't change a thing, as happiness you bring. You are my soulmate. A marriage made by fate."
Quoted by Catherine Pulsifer
A Fun Golden Wedding Anniversary Idea
The occasion of a golden wedding anniversary is quite rare, so what better reason to mark the occasion with a true celebration? If you have friends or family who have reached such a memorable event in their marriage, it's time to pull out all the stops. Because a half-century wedding anniversary is a rare event, you may be scratching your head over a suitable way to mark the affair, so let's help with an interesting idea.
Plan a Celebratory Party
There's likely a few of you who have already experienced the planning of a party, but when it comes to a golden wedding anniversary, things can be a bit different. The basic steps are the same for any party but these festivities will need a bit more careful thought. You'll need to incorporate ideas and themes that embody 50 years of togetherness, and the number 50.
The first step is to decide on the scale of the party - a close-knit gathering of long-standing family and friends, or a celebration on the scale of a celebrity bash. You also need to consider whether you're going to go down the casual route, or jazz it up and be much more formal. Whichever you decide, will determine the venue decorations. Don't be tempted to invite as many people as possible or you might yourself out of your depth.

Hold the party somewhere in a place that has special meaning for the anniversary couple. How about where they got married, or went on their first date? Or maybe there's a special place they've been longing to visit? Once you've decided on the venue, it's time to think about the decorations. Pick some accessories that are gold in colour and add photos of the happy couple, taken over their time together. You can pick tunes that they love for background music, and maybe hire a few screens so you can play some family videos that feature them.
The food will form the centrepiece of the party, but choose dishes that the couple like, rather than trying to cater to many different tastes. You could try and replicate the wedding meal that was served on their wedding day, or pick a few of their home-made favourites - after 50 years together they are bound to have a few prized dishes. However you decide to celebrate 50 years of marriage, make sure it is a memorable event for all concerned, but especially for the two who will be the centre of everybody's attention.
Happy Anniversary - You Lucky, Lucky Pair. Here's to many more years to come!