The greatest gifts come straight from the heart. Making a unique anniversary gift is not only romantic, it shows your partner just how much you love them. Putting effort into making a gift that your partner will love is well worth the joy and surprise you see on their face when they open it.
A homemade gift is also the perfect accompaniment to a unique and purchased gift such as a beautiful Eternity Rose. The combination of these gifts will be loved and appreciated, as your partner will know you put more effort than usual into making this year's anniversary occasion extra special.
Homemade gifts become mementos that you will both treasure forever. You might be surprised to know that you already have most of the equipment, materials, and tools you need to create unique, romantic gifts.
There are anniversary gift lists that indicate what material each gift is comprised of. For example: the traditional 1st anniversary gifts are made of paper, the 25th is silver, and the 50th is gold. All the ones in between do have their own material. Making a gift using corresponding materials will make your handmade gift even more special. However, there is no hard and fast rule that says you have to use these corresponding materials to make your gift.
Remember, you don't have to follow any rules when crafting a unique gift. Here are some gift ideas to get your creative juices flowing:
Let Your Love Flow
The most inexpensive gift you can give to your partner is your love in writing. Whether you write just a short note, a poem, or a love letter, words coming straight from your heart will touch your partner's soul. Look around your house to see if you have any pretty paper you can write on. If not, you can decorate plain paper with stickers or drawings.
Sit down, put pen to paper, and pour your heart out. Tell your partner how much they mean to you, why you love them so much, and just how priceless they really are.
Finish off your love letter by spraying a bit of your cologne or perfume on the paper; this way, whenever they read the letter, they will have the 'essence of you' with them.
Cards
You can look online for handmade card ideas. Craft stores sell everything one needs to make cards. However, you can probably find a lot of supplies right in your own home.
Choose a nice piece of card stock, or heavy paper, and get creative. You can draw, glue, or stamp designs on the front of the card. Tailored to your partner's tastes, you can make this special card pop. On the inside of the card you can write a heartfelt message of love, or you could write your own romantic poem.
Make a Collage
Collages are so easy to make: anyone can make one with a bit of time and effort. Making a collage, and framing it, is a perfect gift for your partner. Making it together will make this gift even more special to both of you.
Start by gathering all your supplies. You will need a heavy poster board, card stock, or heavy paper, a glue stick, a nice frame, and all your collections. Walk through your house and look for items that you can easily glue to paper. You will definitely want to include a ton of pictures of the two of you together through the years. Find ticket stubs to concerts and other events you went to; look through magazines and books to find pictures and words you could cut out to complement your collage. You will be surprised to see how many small things you will find to add to your creative work.
When finishing your collage, a special touch you can add to your masterpiece would be either to add some materials, or a frame, that matches the anniversary year: 1st is paper, 3rd is leather, 5th is wood, 11th is steel etc. Use your imagination and use materials or make the frame as suitable.
Personalised Frames
If a collage seems like too much work, why not just personalise a frame? Find a nice frame that has ample space to include some text, then have your names and other message engraved on the frame. Adding a nice picture of the two of you makes for a very practical, yet romantic gift for either partner.
Memory Book
Gather pictures from your life together and make a memory book. Simply staple papers together to form a small booklet, glue pictures on pages (you can always scan and print out copies of your pictures), and add appropriate text. This is a small labour of love that joins heart to heart.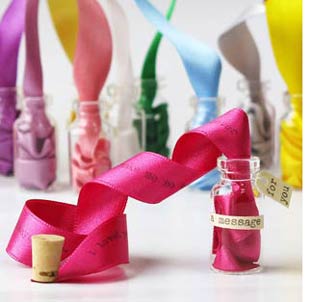 Message Inside a Bottle
Do you both love being by the ocean? Why not make this anniversary super special by giving each other a fancy bottle with a romantic message inside? You can write poetry, a short love note, or a long love letter, then roll it up and place it in the bottle. Cork the bottle so the message doesn't get lost.
To make this gift even more special, plan a romantic get-a-way to the seaside. Whether you just spend the day walking on the beach, or you share a special meal, giving each other your personalised messages in bottles, while sitting on or near the beach, is sure to make for a special anniversary. You both will end up with a unique gift that will be treasured forever.
Gadget Covers
Does your partner already own a cover for their smart phone, lap top, or tablet? If so, you can personalise it yourself with stuff around the house, or you can find a nice photo of the two of you and get it printed on their gadget cover.
Create Your Own CD
Gather together all the songs and music that have touched both of you throughout your years together, and then put them on a single CD that the two of you can listen to on your anniversary (and beyond). Nothing conveys 'romance' like sweet music you can dance to.
Pottery
Find a local pottery shop that lets you design your own plates, mugs, vases and other fun pottery items. Either paint a special design on something, or find a nice picture of the two of you and have it printed on the pottery. This is sure to be a treasured item for years to come.
Pillows
Who doesn't love a nice soft pillow? If you have a sewing machine, why not create a pillow tailored to things you both enjoy? You can either choose fabric that matches both your interests, or you can choose a plain fabric and decorate it yourself.
The fun thing about making a pillow is that you can also tailor the material to some anniversaries: cotton, silk, linen, and lace are just a few ideas for different anniversaries.
You can spend a bit of money and get a transfer made of your picture and iron it on to your material. Or, you could have someone custom-make a pillow for you with the fabric, design, and photo of your choice. Pretty pillows are as practical as they are fun and romantic.
Gift Baskets
Gift baskets are just about the best thing to personalise for your partner, and can be something for both of you to enjoy together. Here are just a few ideas on what to put in gift baskets:
Gourmet Foods
Food lovers will enjoy a gift basket filled with all kinds of gourmet foods. Think things like fine chocolates, wines, meats and cheeses (don't forget the crackers).
Sweet Things
Filling a basket with sweet treats is a sure way to please your partner. Give them all the tasty treats that they reserve for special times. After all, your anniversary is a special time, so make it extra special with yummy candies, fruits, and other delectable goodies.
Hot Drinks
Does your partner crave that first cup of morning coffee or tea? Prepare a gift basket filled with special blends of coffee or tea to awaken their taste buds. Don't forget to add some sweet pastries and fruits. Give this basket before either of you get out of bed. Include a little note promising them a special treat after you enjoy your romantic breakfast.
Date Night
Plan a romantic meal for two - right in your own home. Buy everything you need to make a delicious meal you both can prepare together. Put all the ingredients into a large basket, add some drinks, snacks and scented candles, and set it on the dining room table. This way you get to anticipate what the evening has in store for you.
Cook dinner together, light the candles and sit down to an intimate, romantic dinner. After dinner, set out some snack foods and some wine or champagne, pop in a special DVD, and kick back and cuddle while watching the movie.
After the movie, you can take a relaxing shower or bath before heading to bed to end your special day with a fantastic night of lovemaking.
Stress Busters
After a hectic week of working, or chasing after children, your partner will be more than ready to unwind. Give them a gift basket filled with everything they will need to enjoy a spa treatment at home. Include scented candles to place around the bathroom and bedroom, sweet-smelling bath salts, and massage oils for rubdowns. Couples can find many ways to enjoy this gift basket.
You know your partner better than anyone else. Create a gift basket tailored to their likes and you are sure to get great raves for this gift. What better way to show you know and love your partner than to give them a gift basket that you created just for them?
...and if you are looking for a range of ideas on romantic ways to spend your anniversay, check out our list of 37 suggestions here.