Gift Theme Origins for Wedding Anniversaries
Weddings are a key event in any couple's life, as they bring together friends and relatives to celebrate the happiness and joy of the couple. Wedding anniversaries are also perfect opportunities to celebrate the love of two people, commemorating the joy that they take in each other's company, despite the trials and tribulations of the marital journey.
In most cultures, the wedding anniversary is thought to be an important occasion, and it is generally celebrated in meaningful and significant ways. Couples are reminded of their marital commitment, and a lot of effort often goes into sourcing the perfect gift that will be symbolic and meaningful for one's partner, or the happy couple.
OUR MOST POPULAR ANNIVERSARY GIFT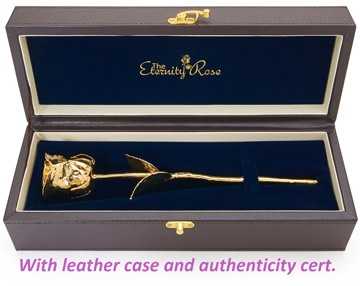 While finding a gift for couples in the first years of their marriage is relatively simple (as they still require many of the essentials of marital life), later in their marriage, thinking of an appropriate gift idea that will be appreciated and treasured is more difficult.
Gift-giving on the occasion of a wedding anniversary has its origins in the medieval period. In the Holy Roman Empire, husbands would give their wife a silver garland to mark their 25th anniversary, and a golden wreath when they reached 50 years of marriage.
In the 1920s, Emily Post, an American writer, attempted to solve the issue of what gift to give on the occasion of an anniversary by drawing up lists of anniversary themes in a book titled "Etiquette", published in 1922. However, only some anniversary years were included in the book, the first, fifth, then every fifth year up to the 25th wedding anniversary. In 1937, the American National Retail Jeweler Association added additional years to the list, including all years up to 14 years of marriage, and every 5th year up to 50 years of marriage. These are known as traditional themes linked with each marital year. More recently, a contemporary list was created, and today, all the anniversary years from 1 up to 30 have been linked with a theme or material, and then every fifth year up to 75 years of marriage.
Other Themes for Anniversary Gifts – Gemstones, Colours and Flowers
Not only are anniversary years symbolised by traditional and contemporary gifts, but they often also have a flower, colour and gemstone associated with them as well. The gemstones associated with marital years 1 to 25, and then every 5th year up to the 60th anniversary, are published in the Information Manual on Gemstones by the American Gem Trade Association. In some instances, other countries have suggested a different gemstone for certain anniversary years, so those alternate gemstones are outlined in our table.
Different marital years also often have colours and flowers associated with them, however, these vary dependent on the source. Usually, however, the rose is considered to be the perfect substitute for any anniversary if a woman adores roses, and often its shade can be matched with the colour linked to the anniversary year.
We have compiled a table here that details all the traditional and contemporary themes associated with each anniversary year. There is also further information below the table to help guide you when thinking about an appropriate anniversary gift for your loved one, or for a couple.

Wedding Anniversary Occasion

Traditional Theme

Modern Theme

Colour

Gemstone

Anniversary Gift Suggestions

1st Year

Paper

Clocks

Gold; Yellow

Gold Jewellery (no stone specified)

Alternate Stone: Peridot; Pearl

2nd Year

Cotton

China

Red

Garnet

Alternate Stone: Rose Quartz

3rd Year

Leather

Crystal/Glass

Jade; White

Pearl

Alternate Stone: Moonstone; Crystal; Jade

4th Year

Linen; Silk (UK)

Fruit/Flowers (US)

Appliances (electrical)

Blue; Green

Blue Topaz

Alternate Stone: Blue Zircon; Amethyst

5th Year

Wood

Silverware

Blue; Pink; Turquoise

Sapphire

Alternate Stone: Pink Tourmaline; Rose Quartz; Turquoise

6th Year

Candy (UK)

Iron (US)

Wood

Purple; White; Turquoise

Amethyst

Alternate Stone: Garnet; Turquoise

7th Year

Wool (UK)

Copper (US)

Brass; Desk Sets

Yellow; Off-White

Onyx

Alternate Stone: Yellow Sapphire; Copper; Lapis Lazuli

8th Year

Salt (UK)

Bronze; Pottery (US)

Linen; Lace

Bronze

Tourmaline

Alternate Stone: Tanzanite; Bronze; Aventurine

9th Year

Copper (UK)

Willow; Pottery (US)

Leather

Terracotta

Lapis Lazuli

Alternate Stone: Tiger Eye; Andalusite

10th Year

Tin (US & UK)

Aluminum (US);

Diamond Jewellery

Silver; Blue

Diamond

Alternate Stone: Crystal; Onyx; Green Tourmaline

11th Year

Steel

Fashion Jewellery; Accessories

Turquoise

Turquoise

Alternate Stone: Hematite

12th Year

Linen; Silk (UK)

Home Décor (US)

Pearls

Oyster-White

Jade

Alternate Stone: Agate; Pearl; Garnet; Tsavorite

13th Year

Lace

Textiles; Furs

White

Citrine

Alternate Stone: Moonstone; Malachite; Opal

14th Year

Ivory or Elephant ***

Gold Jewellery

Ivory

Opal

Alternate Stone: Ivory; Gold; Kunzite; Moss Agate

15th Year

Crystal

Watches

Red

Ruby

Alternate Stone: Rhodolite; Blue Sapphire

16th Year

Silverware

Silver

Peridot

Alternate Stone: Aquamarine; Golden Topaz

17th Year

Furniture

Yellow

Alternate Stone: Amethyst; Citrine; Pink Tourmaline; Watch

Carnelian

18th Year

Porcelain

Blue

Cat's Eye

Alternate Stone: Opal; Aquamarine

19th Year

Bronze

Bronze

Aquamarine

Alternate Stone: Topaz; Golden Beryl

20th Year

China

Platinum

Emerald

Alternate Stone: Platinum

Emerald-Green; White

21st Year

Brass; Nickel

Orange

Iolite

22nd Year

Copper

Green

Spinel

23rd Year

Silver Plate

Silver

Imperial Topaz

Alternate Stone: Sapphire

24th Year

Opal (US)

Musical Instruments

Lavender

Tanzanite

25th Year

Silver

Silver

Silver Jewellery (no specific stone)

26th Year

Pictures

NA

NA

27th Year

Sculptures

NA

NA

28th Year

Orchids

Lavender

Alternate Stone: Amethyst;

Orchid Tourmaline

29th Year

Furniture

NA

NA

30th Year

Pearl

Diamond

Green

Pearl

Alternate Stone: Diamond; Jade

35th Year

Coral (US & UK);

Jade (US)

Jade

Coral

Emerald

Alternate Stone: Coral; Jade

40th Year

Ruby

Red

Ruby

45th Year

Sapphire

Blue

Sapphire

Alternate Stone: Alexandrite

50th Year

Gold

Gold

Gold (no specific stone)

Alternate Stone: Gold or Imperial Topaz

55th Year

Emerald

Emerald-Green

Alexandrite

Alternate Stone: Emerald

60th Year

Diamond

Diamond-White

Diamond
*** Although ivory is the traditional material for a 14th wedding anniversary, it is a poor choice ethically due to the decline of elephant populations. Instead, gifts that feature an elephant theme are an appropriate alternative.
Choosing a Gift
When you look at our table, you can see a complete guide to each anniversary year, outlining all traditional and modern themes, as well as the gemstones, colours and floral* symbols for each year. Further detail can be discovered by clicking the link located in the last column of each year. You can find information here relating to each anniversary year right up to 30 years of marriage, and then each 5th year up to the 60th year of marriage. You can also read on the background of the symbols linked to every theme, together with any additional aspects relating to the anniversary, and useful gift suggestions for each milestone. You will find lots of exciting ideas to browse through, which makes finding the perfect anniversary present a breeze.
* The floral symbol is explained in more detail when you click on the link in the last column of each anniversary year.

There are no definitive rules to choosing an anniversary present, so be guided by the recipient's tastes and find a gift they are sure to cherish.
You will note that after 20 years, there aren't traditional gifts associated with every marital year, however, there is a modern theme for each year right up to 30 years of marriage. This reflects the need for a couple to continue to sustain romance and commitment as they progress through married life. Some years also have no floral symbol, gemstone or colour associated with them. We do, however, suggest useful gift ideas for every wedding anniversary year.
We also wish to point out that in some instances, different countries have different gift themes, and when you look at the table, you can see the source that has been used for the gift suggestions, whether it is from the UK or the United States.
Should you be looking for advice about romantic activities to enjoy on your anniversary, check out our list of 37 exciting suggestions.