Discover the ideal present for your loved one(s) on the 11th wedding anniversary in our comprehensive list of themes linked with this year. Combine any or all of the colours or ideas to show how much thought you have put into selecting a bespoke present.
Traditional 11th Anniversary Theme for Gifts: Steel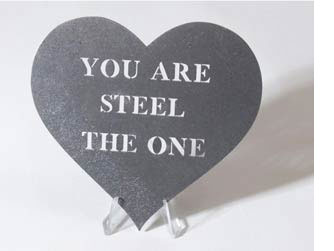 With its association with great strength, when given for the 11th anniversary, steel shows how the marriage has been strong enough to survive into the second decade.
Modern 11th Anniversary Theme for Gifts: Fashion Jewellery and Accessories
Modern accessories and fashion jewellery represent the joy of married life and all the fun that can be had.
Gemstone: Turquoise
Alternate Stone: Hematite
Colour: Turquoise
Floral Theme: Tulip or Morning Glory
Tulips symbolise perfection in love, however there are also different meanings that relate to tulip colour. Red declares genuine love, while yellow brings cheerful thoughts. Cream means eternal devotion, while white represents purity. Pink symbolises affection and orange reflects desire and passion.
The short-lived nature of the morning glory reflects affection, together with a reminder to treasure every day, and to celebrate the beginning of the next decade of marriage.
Traditional Anniversary Gift Suggestions
• Stainless steel accessories (key ring, watch, men's bracelet)
• Stainless steel home items (wine chiller, cutlery set, clock, wine glasses, candle holder)
• Stainless steel ornaments and accessories (sculpture, figurine)
Modern Anniversary Gift Suggestions
• Fashion jewellery and accessories (necklace, earrings, bracelet, ring, hat, scarf)
• Flower-based gifts related to this anniversary (tulip or morning glory), for example: plant, perfume, scented candles, bouquet of flowers, art print
• Hematite jewellery (alternate stone for this anniversary)
• Turquoise jewellery
Below are another 5 anniversaries which may have substitutable themes for you to consider:
12th wedding anniversary gift ideas | 13th wedding anniversary gift ideas | 14th wedding anniversary gift ideas |
15th wedding anniversary gift ideas | 16th wedding anniversary gift ideas |