Find here the complete list of themes linked to the 16thanniversary of marriage. Mix and match these colours, suggestions and themes to express to your loved one(s) how much you care.
Modern 16th Anniversary Theme for Gifts: Silverware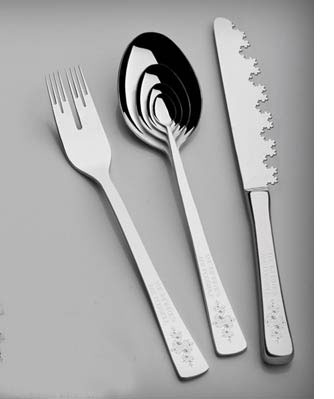 Representing clarity due to its clear lustre, silverware also represents purity and strength. Signifying the way two people are connected through marriage, it also prompts them to think of the sharing of food at a table with family.
Gemstone: Peridot
Alternate Stone: Aquamarine or Golden Topaz
Colour: Silver
Floral Theme: Statice or **Silver Rose
The statice flower symbolises success and lasting beauty. On the 16th anniversary year, it is a reminder to the couple to blend consideration and compassion to form a successful union.
**The silver rose is a romantic alternative for this anniversary, in keeping with the colour theme, and the symbol of eternal love that a rose represents.
Modern Anniversary Gift Suggestions
• Aquamarine or golden topaz jewellery (alternate stones for this anniversary)
• Flower-based gifts related to this anniversary (statice), for example: plant, perfume, scented candles, bouquet of flowers, art print
• Peridot jewellery
• Silver jewellery (necklace, earrings, ring, bracelet)
• Silver photo frame
• Silver-Dipped Eternity Rose (signifying the silver colour theme for this anniversary)
• Silverware (plates, bowls, goblets, cutlery, candle holder, wine bucket, tea set)
Here is our video-clip of the ever-popular Silver-Dipped Eternity Rose
Below are links to the 5 next anniversary gift themes:
17th wedding anniversary gift ideas | 18th wedding anniversary gift ideas | 19th wedding anniversary gift ideas |
20th wedding anniversary gift ideas | 21st wedding anniversary gift ideas |