Dear Reader,
The comments below are from people who have bought our products over time. They are sincere and unsolicited. They have not been modified, as we would like to offer you a genuine review of what people feel about our products, and the reactions of those who have received our products as gifts.
Daniel Thomas
The Eternity Rose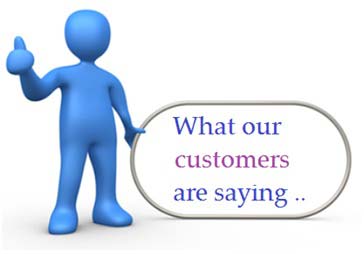 "I can't thank you enough! Making this purchase from The Eternity Rose has been one of the most smooth and satisfying experiences I've had in a long time with online shopping. The rose is exquisite and true to the descriptions and pics on your website. Many many thanks."
Chris Z.
"I was really pedantic about getting this gift perfectly right for my girlfriend. I have bought her many roses in the past, and wanted this one to impress her beyond anything I've ever given. I felt a bit embarrassed after badgering you guys with endless questions, but I was always treated with respect and understanding, and you responded promptly each time! I was so chuffed with the quality, but most importantly of all, she was bowled over. So thank you Eternity Rose."
Daniel I.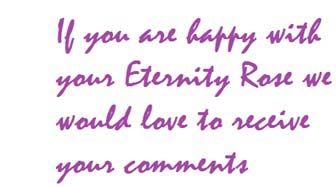 "I bought a gold Eternity Rose for my mum to give her on Mother's Day. As soon as I opened the box, I was awestruck and just thought, OMG, I hope some man buys one like this for me one day! I would feel like the ultimate princess : - )."

Janelle P.
"This rose made the ideal present for a special lady I haven't seen in over 5 years. Your service was amazing! A special thanks also for getting the vase (that I originally forgot to order) sent out to her so quickly afterwards. This rose was such a great way to re-connect with her and show her that I will never forget her, even though we can't be together right now."
Ben T.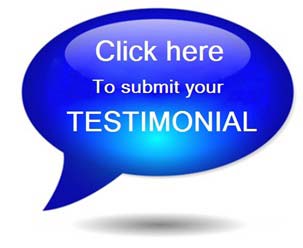 "What you see is what you get! My web purchases usually don't look like the pics on the websites, but this time was a pleasant change. The gorgeous platinum rose arrived in less than 3 days to Scotland, in such a stylish box. I was so overcome by my mum's reaction when she opened her gift, and her friends just adore it. A couple of them have even asked me where they can buy one themselves! I am eager to buy more down the track."
Chrissie H.
"My girlfriend received her Eternity Rose today, and what a response! People out there need to know that your roses will genuinely surprise and touch anyone they love."
Dylan M.
"Talk about value for money! I absolutely love the two roses I ordered and can't understand how they are so affordable (plus the free shipping was an added bonus). They look beautiful in their boxes and I can't wait to give them to my godmother and mum next week. I plan to buy more and already have two occasions coming up that they will suit - really versatile for any special occasion."
Marlene S.
"I recently bought a gold Eternity Rose and was immediately compelled to pass on my compliments. It is such a gorgeous looking flower and came in less than a couple of days! Normally I would not hesitate to tell anyone about such a quality product, but am really tempted to selfishly keep your company a secret to myself for more gifts I will buy from you in the future (hope you understand ))."
John K.
"For your information, my wife told me this was the best gift I have ever given her. She posted it on Facebook with a lot of great remarks. Really happy with my purchase here."
Mick O.
"I ordered a red glazed Eternity Rose to be delivered to my fiancée at her hotel on the morning of our wedding day. I was really surprised when she called me and broke all tradition of not speaking to me before the big walk down the aisle! I lost count of how many times she said she loved me and that I shouldn't have spent so much money on her. It was the loveliest feeling to hear how much I had touched her heart, and gave me even more of a buzz as I made my way to the church. So thank you for helping me to make our special day all the more special."
Graeme T.
"I just received my order and wanted to write straight away and tell you how beautiful the rose is! I am so happy with it and can't wait until I give it to my wife."
Jim S.
"Everything about these products are perfect, from their quality, to the customer service and speed of delivery. Congrats on a great business ethic I will highly recommend your company to others. Thanks again."
Rob D.
"I ordered a yellow gold-trimmed rose and requested it to be delivered to my friend before the weekend, but the courier company made a mistake with the shipping and processed it to be shipped at a later date. When the Eternity Rose company became aware of this problem, they contacted me and promised they would do their best to have it delivered as quickly as possible. So even though it arrived a bit later than expected, it was well worth the wait because my friend adores it!"
Mark F.
"Am thrilled to bits - theses roses are the loveliest! I was a bit nervous about buying from you internationally, but your open and honest communication gave me the confidence to go ahead, and I was amazed at the speed of the delivery. I couldn't find anything like this in my country (Belgium). The roses more than met my expectations and I will definitely buy again from you. Thank you for such commendable service."
Kirssten C.
"It was my mum's birthday and I looked everywhere for something that would scream out how much I loved her. I bought her two roses in her favourite colours (purple and yellow) and she became tearful after opening the box. I achieved my goal and thought I would let you know!"
Joey H.
"I bought two silver roses as a gift to my wife for our 25th wedding anniversary, and didn't expect such a reaction from her. She put them on display in our living room (in place of where her most treasured antique from her grandmother used to be). Thanks for getting them to me on time.
Glenn W.
"The rose and vase gift was a real hit and more than I hoped it could be – mainly due to my darling girl's response. She felt so spoiled, and on my limited budget, she felt like I had given her the world. I am really happy I found your ad."
Peter P.
"My rose came a couple of days ago and I gave it to my partner this morning. After seeing her face when she opened it, I felt that the least I could do was to put something in writing to declare to everyone how beautiful this product is! And thank you so much for all your efforts in helping me pick the right rose – there are so many businesses which do not invest this kind of support and care into their customers. Not to mention travelling halfway across the world in 48 hour!!"
Ollie M.
"This rose is LOVELY. I ordered a gold trimmed red rose & a vase for the one and only girl in my life. It didn't take long to get here in the outback and came in a very classy package. Thank you for your fast and reliable service which matches the quality of your product."
Stacey S.
"Fewest words sum these roses up - They are really pretty and they damn well impress anyone who sees them. Also got them in time because I left it so late to look for a gift! "
Julianna D.
"My better half was spellbound when she opened her gold rose last week and I could not have found a more perfect gift for our Golden wedding anniversary. I was almost running out of time in finding something, and yet it came quickly and on time as you promised. Thank you - others need to discover you too!"
Gary R.
"My son sent me this present for Mother's Day from his honeymoon in Fiji. I can't begin to describe how I felt when I opened the parcel and saw the most beautiful yellow rose I have ever seen. I will never forget being remembered with such love and thoughtfulness!"
Jan L.
"I bought 6 roses from you to give my five sisters and mum at Christmas. The roses looked even better in person when they came, and my family felt like I had spent my entire savings on them. I had the best feeling and had to write in and say that these roses are just awesome!!!"
Phil M.
"The Eternity Rose arrived this morning and I can't thank you enough for your amazing help in making this transaction so easy for me. My wife was really shocked when she opened the gift (and this will keep me in her good books for quite some time to come ). She now wants to buy one for her friend and cousin. We will not hesitate to suggest you to everyone we know."
Denis L.
"This was one of my first online purchases and has given me a lot of confidence to buy again online. What an excellent company is The Eternity Rose! There were no problems in sending this to my partner who is currently visiting her family in Wisconsin. I miss her so much and this was the best way to remind her of how much she means to me."
Paul S.
"Thank you so much for the two gold roses I ordered. These were for my mother and a dear friend and I have now decided to get a silver one for my husband to celebrate our upcoming 25th wedding anniversary. He has spoiled me so much over the years with beautiful flowers and roses, but this one from me will be in our home for keeps and will forever symbolise my love for him."
Julia M.
"I felt I just had to praise you! My son sent me three beautiful glazed roses for my birthday. They are just gorgeous and I will treasure them forever."
Enid P.
"My wife announced that this rose was the best anniversary gift I have ever given her! I don't think I will ever find anything more special again, so I will just have to keep buying one from you every anniversary! I doubt there will be any complaints from her ."
Andy D.
"Hi, many thanks for always getting back to me so promptly. The rose arrived today. Just thought I would say it's quite stunning. My girl thinks it's unbelievable. Not sure how you do it for the price. Many thanks, really awesome." Brett P. "This rose was such a significant way to show my wife how much I love her. She was so impressed, thanks."
Jason G.
"Your platinum rose helped me win my girlfriend back - no kidding!! Thanks from the bottom of my soul!"
Ben T.
"My business had a particularly good year and I wanted to get something special for the girls on staff who have worked so hard. I searched and couldn't find anything that matched your roses in quality and price. With the reaction I got from them all at our xmas party when they opened their boxes, I won't have to think hard of what to get my mother and wife next year. Your roses are just splendid! : - )"
Brendan M.
"These roses are astounding. They may look pretty good on the website but they are even more superb in person." Mary L. "I got home from work and saw the package waiting from you. I pretended to be confused and asked my wife to open it. She was speechless when she saw the gold roses. I needed to get her something special for many personal reasons, and this gift sent the message of how much I appreciate everything she has brought to my life. Thank you so much."
Albert M.
"I accidentally stumbled on your website about 5 months ago and couldn't help but look around. Since then, I have bought three roses from you and have never been anything but incredibly impressed each time. I thought it was well overdue to write and thank you. You make gift-giving so easy and special."
Cassie R.
"I bought a rose that was similar to yours from an overseas competitor and was extremely disappointed to say the least. I had been so looking forward to receiving it, and because I believed I had found the most perfect and unique gift ever, I was driven to find another one somewhere that would properly meet my standards. I finally found your company and was so reassured from your customer service, that I took the chance to order again. I will never look back on my instinct to go with The Eternity Rose. Your roses are stunning and true to everything your website claims them to be. I strongly endorse your company in every way possible and think people need to be aware of other rubbish out there."
Austin G.
"My husband bought one of your orchids for my birthday last week. It is my #1 favourite flower and I get compliments from anyone who sees it. Many of my friends have asked me where it's from and one of my friends has already since bought something from you. I think I will also buy from you soon."
Jessica M.
"Hi,
Just a quick note to say the rose has arrived and looks fantastic! Sure to be a winner when I surprise my wife with it.
Thanks again".
Joe M.
"I bought my wife this rose and the acrylic vase for her birthday. She was absolutely thrilled. The service before, during and after the purchase was phenomenal. I can only say, don't hesitate other than in choosing which rose to give your loved one."
Alan G.
"Hello Chrissy,
Just to say many many thanks to you all for such great service. The rose and vase I ordered arrived within 48 hours of ordering.
I am delighted with the products and considering I am plodding around on crutches at the moment your help with these gifts for our anniversary is absolutely fantastic.
Once again many thanks to you all."
Regards,
Andrew F.
More information about the gold roses referenced in these comments is here - Gold-Dipped Eternity Rose
Further details about the silver roses which have been mentioned as 25th wedding anniversary gifts are located here - Silver-Dipped Eternity Rose