Every anniversary is a milestone. Wedding anniversaries are celebrated in many different ways. People around the world find that doing something special on their wedding anniversary is one way to reaffirm their love for each other. Here are some of the ways that you and your partner can celebrate this special day:
1. Wake up before the sun rises and share this special time of the day with your loved one. Enjoy a simple breakfast of fruit and pastries that you prepared the night before.
2. If viewing the sunrise is not something you would do, think about staying in bed for the day. Prepare a special breakfast together and then crawl back in bed to eat. Couples should spend their time relaxing, talking, and making love. This special day in bed can be a time for deeper connections to be formed.
3. Plan a special picnic for your anniversary. Pack your favourite things to eat, a bottle of champagne, a blanket, and head out to your favourite spot.
4. If your anniversary is in the winter, or if the weather is not right for an outdoor picnic, have one right on your living room floor. If you have a fireplace, light it for more ambience. Place a blanket on the floor and sit down to an intimate picnic at home. The nice thing about a home picnic is that you can comfortably drink wine or champagne, knowing you won't need to drive home.
5. Plan an intimate romantic dinner for two. If you both enjoyed a special meal when you were first dating, recreate that meal and remember those glory days. Or, cook your partner's favourite meal and enjoy a quiet night at home.
6. Turn your bedroom into a massage parlour. Turn off the lights, light a few scented candles, put on your favourite music, and gather your essential massage oils. Take turns pampering your partner with a super sensual spa treatment.
7. Shower together after your sensual massages. Carry these feelings to the shower, pampering each other. Wash each other's back and get physical. Making love in the shower is a wonderful way to end the massage session.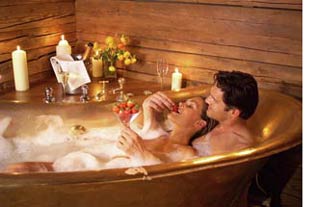 8. If showers aren't your thing, fill the tub with bubble bath and enjoy a romantic bath. Light some candles, pop open a bottle of champagne, then lay back and relax in each other's arms.
9. Remember when you were dating and you spent a lot of time 'making out'? Bring back those memories by making out like you did back then. A long session of intense kissing - especially in a public place - often leads to more intimate touching later on.
10. If your sex life has become monotonous, spice it up by trying new sexual positions.
11. Take sex outside of your bedroom! There is nothing wrong with having sex in other rooms in your home. Add excitement to your anniversary by going wild in the kitchen or living room.
12. Buy your partner a romantic board game; you can find one to suit your styles. Spend the evening together playing your silly sex games and then enjoy the real deal.
13. Go to a movie and make out like you did when you were dating. Find an older movie that will attract less viewers, and enjoy your relative solitude in the theatre. Hold hands and kiss like you did when dating. This might sound a bit corny, but it really is a wonderful way to bring romance into your day.
14. Book a photographer for a romantic shoot. Your anniversary is the perfect day to create new memories and photos to remember the special day.
15. Plan a camping get-a-way. Spend time enjoying Mother Nature and each other. Romance by starlight, in front of a nice bonfire, is sure to make your anniversary very special.
16. If camping is not your thing, book a room at your favourite hotel and invite your partner to join you in a night of romance they will not soon forget. Decorate the room with roses, rose petals, and scented candles. Be sure the tub is filled with bubbles when your partner arrives for your rendezvous.
17. Try an activity that you have been wanting to try. Maybe you've both dreamed about taking a ride in a hot air balloon. Since most balloons go out in the morning hours, plan a special romantic breakfast to eat while flying over some beautiful country.
18. Take classes together, starting on the day of your anniversary. Do you both want to learn to cook better? Take a cooking class. Learn to dance, or play a musical instrument. The options are endless, and should be something you both will enjoy.
19. If you are thrill seekers, try tandem parachuting or skydiving. If it's winter and you both like to ski, head to the nearest mountain for a day of downhill fun.
20. Find a winery that offers an abundance of wine tasting. Then take a stroll and enjoy being in each other's company.
21. Take time to stop and enjoy the sunset together. Whether you are out and about on your anniversary, or celebrating at home, taking time out to stop and watch the sun set can be a really romantic way to end the day.
22. Do you remember your first date? Why not try to recreate that date? Maybe you don't live in the same area, but you can always improvise. Eat the same foods you ate that first time together; enjoy doing the same activities you did back then. Conjuring up these old memories will fill you both with sentimental feelings of bygone love, and lead you to a future filled with years of love.
23. No matter what day your anniversary falls on, you can plan a special weekend get-a-way close to the actual date. Surprise your partner by having the car packed and ready to go as soon as you are done work for the week. No matter the destination, your partner will be thrilled that you made these special plans to celebrate your anniversary.
24. When your partner has to make a morning bathroom run, hide their gift under their pillow. This is sure to bring quick smiles of joy.
25. Flowers - especially red roses - are a wonderful way to show your love for your partner. Give a huge bouquet of roses to your loved one; be sure to write a personal note to tell them how much they are loved. Another special way to show your love with flowers is to hide each rose and leave a sweet note with each one. Scattering rose petals around your bedroom is also a highly romantic thing to do.
26. If roses are beyond your budget, a simple love letter will work just as well. Write from your heart, telling your partner why you love them. Hide the letter where you know they will find it, and wait for the surprise and love that will follow the discovery.
27. Men, buy your lady some sexy lingerie. Be sure you write a nice note about the wonderful things you have planned for the evening.
28. Buy each other a new outfit and plan a romantic get-a-way to your favourite restaurant.
29. Wedding anniversary gifts are often themed to the year. Paper is often given on the first anniversary; silver is given on the 25th anniversary, while gold is given on the 50th anniversary. Find what gift corresponds to your anniversary here, and theme your gift to fit the year. This makes the gift that much more special.
30. Take coloured markers that can be used on glass and draw pictures and write love notes on your partner's vehicle. Just the thought of their decorated car will make them smile throughout the day.
31. Spend time framing and hanging pictures of the two of you throughout your life together. Sharing this time together is a gift all by itself; however, spending time sharing memories of the past will make your anniversary memorable.
32. Do you have a video of your wedding? If so, why not sit and watch it on your anniversary? Pop open some champagne, arrange a nice spread of savoury and sweet treats, and kick back and relive the day that brought you to this current anniversary.
33. Pull out your wedding albums and spend more time remembering your special day.
34. Want to show your partner how much you really love them? Take over a task or two that they normally do each day. Whether it be laundry, cooking, or tending to the children, your spouse will enjoy and appreciate your efforts to make your anniversary a special day.
35. Is there a special song that you both share? Why not plan for the song to be played on the radio (with a special dedication to your sweetheart) while you are both together, either out on a romantic date, or at home. Or, if celebrating at home, be sure to play this song and spend quality time in each other's arm - dancing or just cuddling. Your partner will be so surprised to know that you remember the special song.
36. Long-time couples often find great romance in renewing their wedding vows. Invite friends and family to help you celebrate your marriage all over again.
37. Spend the day together. Arrange your schedule so you both are not working that day. Don't answer the phone, and stay off all mobile devices - your emails can wait. Spend time talking and falling in love all over again.