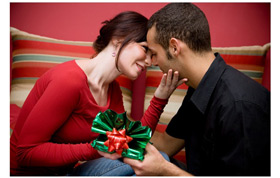 It's never easy to choose the perfect gift for your loved one at Christmas time. Over the years, you have probably already exhausted all the tried and tested favourites you know they love, and now you've run out of inspiration. As tempting as it is to run to the shops and buy a big box of chocolates, you really need to give your loved one a gift that embodies the love and appreciation you have for them all year round.
For Her
The Eternity Rose is the perfect solution to every man's Christmas present problem. Men all over the world have discovered just how much the woman in their life appreciates receiving this stunning gift. With its jewel-like beauty, the gorgeous Eternity Rose is an enduring memento that will be treasured long after the Christmas season has passed. The striking gold, opulent platinum, or festive red glazed rose with its fancy gold trim represents the ideal Christmas gift when given with a matching vase. Alternatively, surprise your special lady with an ornate gold trimmed lacquered rose in the colour she loves best of all. She will know just how much thought and effort you put into finding the perfect present, which will be admired for a lifetime.
We take great pride in the craft and skill that have been invested into creating our beautiful Eternity Roses. We work hard to ensure that every detail is perfect, and that each piece is a unique work of art. We are so convinced that you will be impressed with the quality of our products, that we offer a no questions asked 90 day money back guarantee if you are not completely satisfied. We are certain that this will be the most wonderful Christmas present your loved one has ever been lucky enough to receive.
For Him
Buying a gift for the man in your life can be one of the biggest challenges you can face. New clothing is dull and predictable, but memorable and interesting gift ideas can also be thin on the ground.
If your loved one is a golf fanatic, or a keen card-player, we have just the solution for you. Our 24 karat gold plated golf ball and tee set, or our stunning gold plated poker cards from our Eternity Rose range are a brilliant and unusual present idea. Whether your man chooses to play with them, or simply keep them on display, you can be sure that they will be truly appreciated. Just like our beautiful Eternity Roses, these high quality items have been created by skilled craftsmen during a complex and elaborate process, so you can be assured that each piece is a unique and exquisite work of art.
These gifts for him also make wonderful and unique presents for Father's Day which you can read more about here.

The Eternity Rose team wish you all a Merry Christmas, and hope that whether you are giving or receiving, you will love to discover our precious range of gifts.