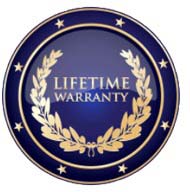 At The Eternity Rose, we believe that a warranty should be more than a set of formal conditions published on a site. It needs to convey full commitment to the customer that unconditional support will be provided if an item is at all faulty.
Our 90-day Satisfaction Guarantee allows the customer to return their purchase for a replacement or complete refund within 90-days of receiving the item, if the customer or recipient is not happy with the gift.
Our Lifetime Warranty in relation to product failure offers additional assurance that if the item fails during standard display usage, we will replace it.
Please be notified that the following circumstances are not protected by the warranty:
1) Typical tarnishing of a product that contains gold or another precious metal.
2) The product has evidently been dropped or bent, causing damage.
3) The product has corroded due to contact with a chemical that is acidic.
If you need to submit a warranty claim, your claim will be granted company priority. Usually, an Eternity Rose 'display' product including the roses and 'display' poker cards and golf balls should endure a lifetime in standard presentation conditions within the home. As per every gold item, it is also expected that a certain amount of tarnishing will occur over time. Most people use a regular metal cleaner every 5 years or thereabouts to shine up their Eternity Rose products. Our roses are of a structural strength similar to a wine glass, and not especially fragile. They are able to be rubbed with the same degree of rigour as would be applied when shining a wine glass.
The Eternity Rose playable poker cards, golf balls and tees will certainly exhibit wear and tear if physically used. This is therefore not covered by the warranty.
If you wish to return a product, you can read about our procedures on Returning a Product here.
For further information, you can refer to our Terms & Conditions.