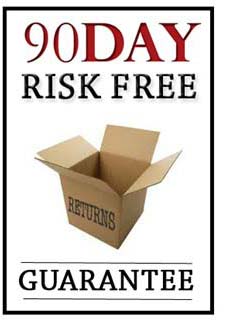 If you are in any way unhappy with the product you have received from The Eternity Rose you may return it for a full refund within 90 days of the invoice date.
To return an item please follow this procedure:
1) Please firstly email us and let us know if you wish to obtain a refund (and please include photos of any damage). You are then required to return the package.

2) Ensure you include the following with your returned package:
- All original packaging including jewelly pouches or white rose box mailing cartons.

- Certificate of authenticity.
- Your name and original invoice/order number.
- A tracking number for the returned item.

Upon receipt of the item, we will process a full refund or replace the item based on your preference (Note: The refund does not include your return freight costs).
If you wish to return an item against our lifetime warranty, we would ask that you email us a description of the problem for further discussion.
Please be advised that the following circumstances do not normally qualify for warranty return after the 90-day satisfaction period:
1) Regular tarnishing of a product containing gold or other precious metal.
2) The product has been bent or dropped, resuting in evident breakage or damage.
3) The product shows signs of corrosion after exposure to an acidic chemical.
Warranty returns will be replaced with a similar product if the identical product is no longer available. To date we have never had an item fail during the warranty period, due to a manufacturing error. Our products are fastidiously manufactured to last for an eternity.
FAQ
Can I return products if it turns out I wish to change colour or style?
Yes, you can return any item within 90 days of the invoice date so long as you return all packaging, and the item is in good order. You may find it helpful to read about our Satisfaction Guarantee. If you have damaged or lost the packaging, we may need to charge a restocking fee.
How do I return an item?
The first thing to do is to email us and advise you would like to return the item, stating the reason for return and quoting your original invoice number.
Please send all returns to:
The Eternity Rose
C/O FDM
7 Eucalyptus Place
Eastern Creek, NSW, 2766

** Please note, we do not cover the cost of the return postage.
What happens if my item is damaged when I first receive it?
If the item you ordered arrives damaged, then please attempt to photograph the damage and email us the photo. If this is not convenient, then just send us an email describing the damage. You will need to post the item back to us including all original packaging. Immediately we receive the item, we will mail you a replacement or provide a full refund depending on your preference. Damage is extremely rare as we adequately package the items for postage, and the presentation boxes are also quite sturdy.
Who pays for the return freight?
All warranties are RTB (return to base). This means the customer pays the return freight when items are sent back to us.
How long does warranty processing take?
In most cases, we will send a replacement item out, or process a refund, the same or next day after receipt of the returned item.
Who pays the shipping cost for the replacement item when it is returned to me?
We pay all shipping costs to the customer.
What happens if I send something back and it is damaged when you receive it?
This does not impact you at all. We still provide a full refund or replacement.