The traditional and modern themes linked with the 18th wedding anniversary are found below. Use this handy list to mix ideas and create a unique and heartfelt token of esteem on this special occasion.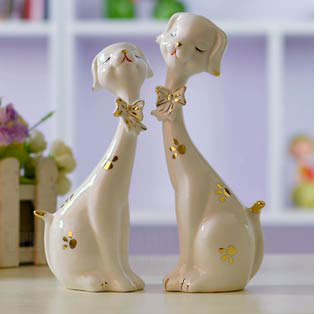 Modern 18th Anniversary Theme for Gifts: Porcelain
Elegant, fine and exquisite, porcelain symbolises the unique nature of an 18 year-long marriage. Having cared for each other to prevent damage in their union, porcelain gifts remind the pair to continue to handle each other with care.
Gemstone: Cat's Eye
Alternate Stone: Opal or Aquamarine
Colour: Blue
Floral Theme: NA
Modern Anniversary Gift Suggestions
• Cat's eye jewellery (necklace, bracelet, ring, pendant)
• Opal or aquamarine jewellery (alternate stones for this anniversary)
• Porcelain home items (vase, mugs, serving platter, candle holder, jug)
• Porcelain ornament (sculpture or figurine)

Here are the next 5 anniversary gift themes:
19th wedding anniversary gift ideas | 20th wedding anniversary gift ideas | 21st wedding anniversary gift ideas |
22nd wedding anniversary gift ideas | 23rd wedding anniversary gift ideas |