Find here the themes, items and colours associated with 14th wedding anniversary which you can combine to make a truly special and heartfelt gift for your loved ones.
Traditional 14th Anniversary Theme for Gifts: Ivory*
*While ivory may once have been given as a 14th wedding anniversary gift, it is now a poor choice ethically due to the decline of worldwide elephant populations. Instead, gifts that feature elephants are now often given as an appropriate alternative.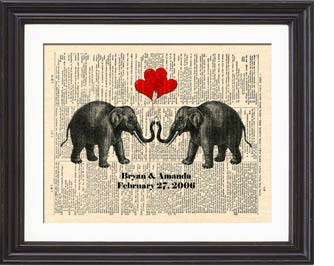 The elephant in Hindu mythology represents luck and protection, with blessings brought down upon all new endeavours. An elephant's strength, stability and honour are also excellent representations of these relationship facets.
Modern 14th Anniversary Theme for Gifts: Gold Jewellery
Gold jewellery has a significance of prosperity, good health and power.
Gemstone: Opal
Alternate Stone: Gold, Kunzite, Moss Agate or Ivory
Colour: Ivory
Floral Theme: Dahlia or **Gold or White Rose
The dahlia has a symbolism of elegance and dignity, representing the eternal bond of a couple on the occasion of their 14th anniversary.
**The white or gold rose is a romantic alternative for this anniversary, in keeping with the modern and colour themes, and the symbol of eternal love that a rose represents.
Traditional Anniversary Gift Suggestions
• *Ivory gifts
• Contribute to a sanctuary for elephants
• Elephant-themed gifts (figurine or art print)
Modern Anniversary Gift Suggestions
* Ivory based gifts are unpopular given the endangerment of elephants
• Flower-based gifts related to this anniversary (dahlia), for example: plant, perfume, scented candles, bouquet of flowers, art print
• Gold jewellery (necklace, bracelet, pendant, ring)
• Gold-Dipped Eternity Rose (signifying the modern gold jewellery theme)
• Moss agate, ivory* or kunzite jewellery (alternate stone options for this anniversary)
• Opal jewellery
• Pearl-White Glazed Eternity Rose (signifying the ivory colour theme for this anniversary)
Here is a video-clip of the Pearl-White Glazed Eternity Rose:
Below are the next 5 anniversary gift themes:
15th wedding anniversary gift ideas | 16th wedding anniversary gift ideas | 17th wedding anniversary gift ideas |
18th wedding anniversary gift ideas | 19th wedding anniversary gift ideas |