When your loved one(s) are celebrating their 15th anniversary, you can find some exciting ideas from our selection of themes, colours and suggestions for this anniversary year. Combine them to make a present that matches your recipients' tastes ideally.
Traditional 15th Anniversary Theme for Gifts: Crystal
The stunning multifaceted structure of crystal allows the light to be reflected in a dazzling way, just like the inspiring love of a happy couple in harmony. Crystal also breaks easily, so it represents the need for the couple to carefully handle their marriage and never take each other for granted.
Modern 15th Anniversary Theme for Gifts: Watches
Representing time and eternal love, a watch is an appropriate 15th anniversary gift theme.
Gemstone: Ruby
Alternate Stone: Rhodolite or Blue Sapphires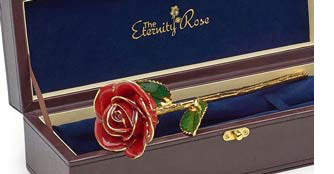 Colour: Red
Floral Theme: Rose
As red is a colour theme for the 15th anniversary, giving a red rose is the perfect commemoration of this anniversary year. As the eternal symbol of passion and romance, a red rose indicates the deep passions and perfect love of a long-term married pair.
Traditional Anniversary Gift Suggestions
• Crystal home items (bell, vase, wine goblets, bowl or dish, candle holder, jug)
• Crystal ornament or accessories (figurine, paperweight)
Modern Anniversary Gift Suggestions
• ** A highly favourable gift is a Red Glazed Eternity Rose or Ruby-Red Glazed Eternity Rose (signifying the red colour theme and floral theme for this anniversary)
• Rhodolite or blue sapphire jewellery (alternate stones for this anniversary)
• Rose-themed gifts (plant, perfume, scented candles, bouquet of flowers, art print)
• Ruby jewellery (necklace, bracelet, pendant, ring)
• Watch
Here is our gorgeous Red Glazed Eternity Rose:
Following we offer links to the upcoming anniversary years and their related gift themes:
16th wedding anniversary gift ideas | 17th wedding anniversary gift ideas | 18th wedding anniversary gift ideas |
19th wedding anniversary gift ideas | 20th wedding anniversary gift ideas |