You will find here a selection of gift symbols that relate to the 2nd anniversary of marriage. Never feel bound by a particular rule or theme - you can combine different themes, colours or suggestions to create a present, showing the recipient(s) clearly how much they are cared for.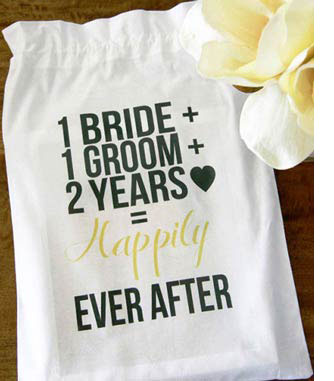 Traditional 2nd Anniversary Theme for Gifts: Cotton
A versatile and durable fabric, cotton represents the essential qualities for a happy marriage. Reminding two people to be adaptable to change in their union, the interwoven fibres of cotton reflects how the pair grow closer through the intertwining of their lives during the second marital year.
Modern 2nd Anniversary Theme for Gifts: China
The beautiful elegance of china is similar to the love between two people in a relationship. However, it is also breakable when handled poorly, and therefore reminds the pair of how they need to continue to care deeply for each other, whatever challenges may arise.
Gemstone: Garnet
Alternate Stone: Rose Quartz
Colour: Red
Floral Theme: Lily of the Valley, Cosmos, **Red Rose
The lily of the valley holds a meaning of sweetness, purity and trust.
When read in Greek, the name "cosmos" means ornamental beauty. It is known to be a flower that represents love, and its attractive appeal exudes wholeness and modesty.
**The red rose is a romantic alternative for this anniversary, in keeping with the colour theme, and the symbol of eternal love that a rose represents.
Traditional Anniversary Gift Suggestions
• Cotton 'Hers and His' bathrobes
• Cotton clothing (shirt)
• Cotton accessories (gloves, handkerchiefs, socks)
• Cotton bathroom towels
• Cotton tableware (tablecloth, placemats, napkins)
• Egyptian cotton bedding (sheets and matching pillowcases)
Modern Anniversary Gift Suggestions
• China ornaments (figurine, sculpture)
• China home items (vase, plates, mugs, bowls)
• Flower-based gifts related to this anniversary (cosmos or lily of the valley), for example: plant, perfume, scented candles, bouquet of flowers, art print
• Garnet jewellery (ring, bracelet, necklace, earrings)
• Red Glazed Eternity Rose or Ruby-Red Glazed Eternity Rose (signifying the red colour theme for this anniversary)
• Rose quartz jewellery (alternate stone for this anniversary)
Here we present a video-clip of the Red Glazed Eternity Rose
Below are the next few upcoming anniversary themes for you to ponder:
3rd wedding anniversary gift ideas | 4th wedding anniversary gift ideas | 5th wedding anniversary gift ideas |
6th wedding anniversary gift ideas | Celebrate with a Touch of Romance |