When searching for a fifth anniversary gift, you can find some wonderful traditional and modern suggestions here. Mix up themes, colours and ideas to generate a gift that comes from the heart.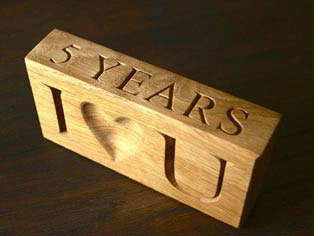 Traditional 5th Anniversary Theme for Gifts: Wood
Trees (in accordance with the wood theme) have long been known to represent wisdom and strength, showing the solidity of five years of marriage. Reflecting the depth of understanding between the pair and the wisdom to accept the reality of making mistakes, a couple who have been married for five years will have found ways in which to forgive each other, and thus enjoy a happy union.
Modern 5th Anniversary Theme for Gifts: Silverware
The clarity of silverware, and its bright lustre, is a symbol of the strength and purity of a marriage. It also makes a couple more aware of their shared bonds as they eat together with their family using silverware, forming a strong unit.
Gemstone: Sapphire
Alternate Stone: Turquoise, Rose Quartz or Pink Tourmaline
Colour: Pink, Blue or Turquoise
Floral Theme: Daisy, **Blue, Silver or Pink Rose
The pretty daisy has a significance of loyalty, purity and faith.
**The blue, silver or pink rose is a romantic alternative for this anniversary, in keeping with the colour theme, and the symbol of eternal love that a rose represents.
Traditional Anniversary Gift Suggestions
• Art-print of trees
• Romantic wood-based gifts for her (jewellery box or music box)
• Wooden home items (basket, chess set, bookends, wine rack)
• Wooden furniture
• Wooden kitchenware (bowls, salad set, placemats)
• Wooden jigsaw puzzle
• Wooden sculpture
Modern Anniversary Gift Suggestions
• Flower-based gifts related to this anniversary (daisy), for example: plant, perfume, scented candles, bouquet of flowers, art print
• Light-Blue Glazed Eternity Rose or Dark-Blue Glazed Eternity Rose (signifying the blue colour theme for this anniversary)
• Pink Glazed Eternity Rose (signifying the pink colour theme for this anniversary)
• Sapphire jewellery
• Silver jewellery (necklace, earrings, ring, bracelet)
• Silver photo frame
• Silver-Dipped Eternity Rose (signifying the silverware theme)
• Silverware (plates, cutlery, bowls, candle holder, tea set, wine bucket)
• Turquoise, pink tourmaline or rose quartz jewellery (alternate stones for this anniversary)
Here we present a video-clip of the Pink Glazed Eternity Rose
Here are your next 5 anniversary events taking you up to your second decade of marriage:
6th wedding anniversary gift ideas | 7th wedding anniversary gift ideas | 8th wedding anniversary gift ideas |
9th wedding anniversary gift ideas | 10th wedding anniversary gift ideas |