Show your sentiments on the occasion of your loved ones' 7th anniversary by giving them a gift that incorporates some of the themes linked with this year of marriage. Mix up the colours, items and themes to make a gift that matches the individual tastes of those who receive it.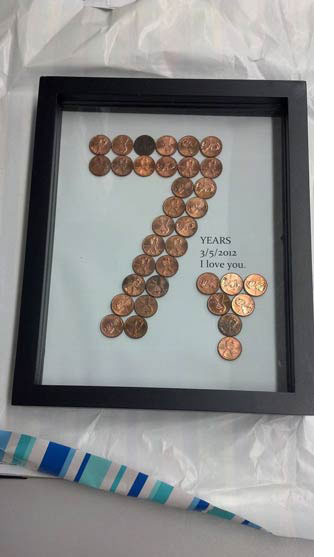 Traditional 7th Anniversary Theme for Gifts: United States: Copper; United Kingdom: Wool
With a meaning of strength, wealth and beauty, copper is also recognised for its ability to be moulded. As a couple accommodate each other after 7 years, copper is a perfect reflection of this facet of their union. As it also conducts electricity and warmth, so it signifies the passion of the pair.
The warmth and security of wool reminds a couple of the essential ingredients to make their marriage work as they reach their 7th year of marriage.
Modern 7th Anniversary Theme for Gifts: Brass or Desk Sets
Durable and strong, with a Biblical meaning of goodness, brass is a lovely 7th anniversary symbol.
Alternatively, a desk set signifies the daily reinforcement of the commitment to harmony with the everyday nature of the relationship.
Gemstone: Onyx
Alternate Stone: Lapis Lazuli, Copper or Yellow Sapphire
Colour: Yellow or Off-White
Floral Theme: Freesia, Jack-in-the-pulpit, **White or Yellow Rose
There are several meanings for the freesia, but the main ones include friendship, thoughtfulness and perseverance, showing the way in which the couple have grown in strength together, with an ability to work through problems and think about each other's feelings, even through the troubles of life.
A woodland wildflower, the jack-in-the-pulpit has a meaning of shelter and reflects the protection of marriage for two people.
**The white or yellow rose is a romantic alternative for this anniversary, in keeping with the colour theme, and the symbol of eternal love that a rose represents.
Traditional Anniversary Gift Suggestions
• Copper home items (vase, mugs, dishes, goblets, jug, bowls, candle holder, clock, flower pot)
• Copper sculpture or figurine
• Woollen clothing or accessories (gloves, sweater, blanket, rug)
Modern Anniversary Gift Suggestions
• Brass home items (vase, plates, mugs, goblets, bowls, clock, bookends)
• Brass accessories or ornaments (figurine, photo frame)
• Desk set
• Flower-based gifts related to this anniversary (jack-in-the-pulpit or freesia), for example: plant, perfume, scented candles, bouquet of flowers, art print
• Lapis lazuli, yellow sapphire or copper jewellery (alternate stone options for this anniversary)
• Onyx jewellery (necklace, earrings, ring, bracelet)
• Pearl-White Glazed Eternity Rose (signifying the off-white colour theme for this anniversary)
• Yellow Glazed Eternity Rose (signifying the yellow colour theme for this anniversary)
A video-clip of the Pearl-White Glazed Eternity Rose is available here
Here are the next 5 anniversary theme ideas for your consideration:
8th wedding anniversary gift ideas | 9th wedding anniversary gift ideas | 10th wedding anniversary gift ideas |
11th wedding anniversary gift ideas | 12th wedding anniversary gift ideas |