There aren't any rules or regulations to choosing a present for the ninth wedding anniversary, so browse these established themes and mix and match any items, colours or themes to make an individually tailored present.
Traditional 9th Anniversary Theme for Gifts: Pottery or Willow for the US; Copper for the UK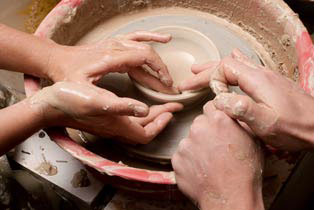 As pottery is moulded and shaped by the potter, it reflects the way in which a marriage is shaped and formed over the years to make a relationship that is a thing of beauty.
A willow tree is flexible and graceful, so on the 9th anniversary, it shows how the pair work well together, giving and taking in turns.
Copper symbolises beauty, wealth and strength and is both soft and malleable, showing how two people accommodate and adapt to each other's needs. As it also conducts electricity and heat well, it also reflects the passion and warmth in a 9-year long marriage.
Modern 9th Anniversary Theme for Gifts: Leather
With its flexibility, strength and warmth, leather is like a marriage in which stability and love are present.
Gemstone: Lapis Lazuli
Alternate Stone: Tiger Eye or Andalusite
Colour: Terracotta
Floral Theme: Poppy or Bird of Paradise
A poppy reflects the way in which a couple enjoy peace and contentment within their marriage, and pursue a common dream.
A bird of paradise has significance of joy, faith and splendour. It also promises exploration and adventure.
Traditional Anniversary Gift Suggestions
• Copper home items (vase, mugs, dishes, goblets, jug, candle holder, bowls, flower pot, clock)
• Copper sculpture or figurine
• Enrol in a pottery course
• Pottery home items (vase, bowl, mugs, dish, jug, flower pot, candle holder)
• Pottery sculptures or figurines
• Willow picnic basket
Modern Anniversary Gift Suggestions
• Leather-covered journal, photo album, diary etc.
• Leather accessories (gloves, cap, jacket, belt, shoes)
• Leather case or briefcase
• Leather handbag, passport-holder, wallet etc.
• Flower-based gifts related to this anniversary (poppy or bird of paradise), for example: plant, perfume, scented candles, bouquet of flowers, art print
• Lapis lazuli jewellery (necklace, earrings, ring, bracelet)
• Tiger eye or andalusite jewellery (alternate stones for this anniversary)
Below are links to the next five anniversary themes, which may help you decide on the most appropriate theme for your current anniversary:
10th wedding anniversary gift ideas | 11th wedding anniversary gift ideas | 12th wedding anniversary gift ideas |
13th wedding anniversary gift ideas | 14th wedding anniversary gift ideas |