Derive inspiration from this selection of known 6th wedding anniversary themes and ideas. Feel free to combine suggestions and design a heartfelt token of appreciation perfectly matching to the tastes of your loved one(s).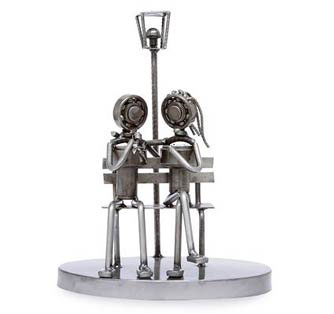 Traditional 6th Anniversary Theme for Gifts: United States: Iron; United Kingdom: Candy
As iron is famous for its strength, it holds a significance of durability and luck for the couple's future.
Candy, on the other hand, reflects the sweet nature of the union, and gives the pair the chance to experience again the passion of their earliest days.
Modern 6th Anniversary Theme for Gifts: Wood
Wood's solidity represents a marriage that is strong and stable. It also reflects the wisdom that a couple develop, allowing them to forgive each other their mistakes.
Gemstone: Amethyst
Alternate Stone: Turquoise or Garnet
Colour: Turquoise, White or Purple
Floral Theme: Calla Lily, **Purple or White Rose
The beauty of the calla lily is associated with purity and faith in the Christian religion, however the Romans believed that its long stalk reflected sexuality and lust. Combining these two qualities is the perfect reflection of a happy marriage with romance and desire at its heart.
**The purple or white rose is a romantic alternative for this anniversary, in keeping with the colour theme, and the symbol of eternal love that a rose represents.
Traditional Anniversary Gift Suggestions
• Box of sweets or chocolates
• Candy dish
• Dessert cookbook
• Venture out to a restaurant or café for a delectable dessert or prepare/cook something special and sweet at home
• Iron home items (bookends, sculpture)
Modern Anniversary Gift Suggestions
• Amethyst jewellery (necklace, earrings, ring, bracelet)
• Art-print of trees
• Flower-based gifts related to this anniversary (calla lily), for example: plant, perfume, scented candles, bouquet of flowers, art print
• Garnet or turquoise jewellery (alternate stones for this anniversary)
• Pearl-White Glazed Eternity Rose (signifying the white colour theme for this anniversary)
• Purple Glazed Eternity Rose (signifying the purple colour theme for this anniversary)
• Romantic wood-based gifts for her (jewellery box or music box)
• Wooden home items (basket, chess set, bookends, wine rack)
• Wooden furniture
• Wooden kitchenware (bowls, salad set, placemats)
• Wooden jigsaw puzzle
• Wooden sculpture
A video-clip of the Purple Glazed Eternity Rose is available here
Here are some upcoming anniversary celebrations:
7th wedding anniversary gift ideas | 8th wedding anniversary gift ideas | 9th wedding anniversary gift ideas |
10th wedding anniversary gift ideas | 11th wedding anniversary gift ideas |