Here, you can see the themes established for the 3rd wedding anniversary, although you need be bound by none of them when selecting your present. There are lots of different colours, themes and gift ideas to inspire you so you are sure to be able to come up with a present that the recipient(s) will cherish.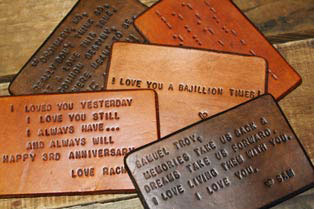 Traditional 3rd Anniversary Theme for Gifts: Leather
In historical times, leather was used for protection and to cover from poor weather. When given on the third anniversary, leather holds a symbolism of warmth and provision of shelter, signifying the way in which a couple will protect and provide stability for each other.
Modern 3rd Anniversary Theme for Gifts: Glass or Crystal
With its dazzling beauty as light reflects from its surface, crystal reminds the pair of the way in which they can be an inspiration to others when they work in tandem. As both crystal and glass are fragile, so is a marriage, and on the occasion of the third anniversary, the couple are reminded never to take each other for granted and to handle their union carefully.
Gemstone: Pearl
Alternate Stone: Jade, Moonstone or Crystal
Colour: White or Jade
Floral Theme: Lily of the Valley, Sunflowers, Fuschia, **White Rose
To receive a lily of the valley is a sign of purity, trust and sweetness.
Meanwhile, a sunflower's yellow shade signifies intelligence and vitality. In Chinese tradition, it also means longevity and good luck for the couple. In Christian tradition, a sunflower is a sign of God's eternal love and devotion.
A fuschia can hold a meaning of love and excellent taste.
**The white rose is a romantic alternative for this anniversary, in keeping with the colour theme, and the symbol of eternal love that a rose represents.
Traditional Anniversary Gift Suggestions
• Leather-covered journal, photo album, diary etc.
• Leather accessories (gloves, cap, jacket, belt, shoes)
• Leather case or briefcase
• Leather passport-holder, handbag, wallet etc.
Modern Anniversary Gift Suggestions
• Crystal figurines
• Crystal home items (wine goblets, vase bell, bowl, jug, dish, candle holder, paperweight)
• Pearl jewellery (bracelet, ring, earrings, necklace)
• Crystal, jade or moonstone jewellery (alternate stones for this anniversary)
• Flower-based gifts related to this anniversary (fuschia, sunflower or lily of the valley), for example: plant, perfume, scented candles, bouquet of flowers, art print
• Light-Green Glazed Eternity Rose or Dark-Green Glazed Eternity Rose (signifying the jade colour theme for this anniversary)
• Pearl-White Glazed Eternity Rose (signifying the white colour theme for this anniversary)
Here we present a video-clip of the Dark-Green Glazed Eternity Rose
Below are some ideas for the next anniversaries coming up:
4th wedding anniversary gift ideas | 5th wedding anniversary gift ideas | 6th wedding anniversary gift ideas |
7th wedding anniversary gift ideas | 8th wedding anniversary gift ideas | Handmade anniversary gifts |