Show your loved one(s) your true emotions when you select from our established list of 35th anniversary themes to create a truly unique present that matches the recipients' tastes.
Traditional 35th Anniversary Theme for Gifts: United Kingdom and United States: Coral; United States: Jade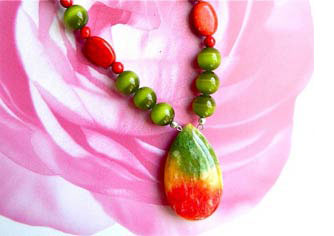 Coral as a colour has a symbolic meaning of passion. In the East, coral also means a long and successful life.
Jade, meanwhile, represents luck, wealth, wisdom and love.
Modern 35th Anniversary Theme for Gifts: Jade
Gemstone: Emerald
Alternate Stone: Coral or Jade
Colour: Coral
Floral Theme: NA
Traditional Anniversary Gift Suggestions
• Coral-themed gifts (seafood dinner for two by candlelight, travel to a coral reef; visit an aquarium that displays corals)
• Home items made of coral (vase, sculpture, figurine, dish)
Modern Anniversary Gift Suggestions
• Coral, emerald or jade jewellery (necklace, earrings, ring, bracelet)
• Jade home items (vase, sculpture, figurine, dish)
Following are further milestone anniversaries and their related gift themes:
40th wedding anniversary gift ideas | 45th wedding anniversary gift ideas | 50th wedding anniversary gift ideas |
55th wedding anniversary gift ideas | 60th wedding anniversary gift ideas |