Here, we aim to provide the most comprehensive list of gift themes linked with a couple's first anniversary. There is no need to worry about sticking to any rules as you can choose to mix up any or all of the colours, themes and suggestions to come up with a special present that will truly suit the style of the recipient(s), while sending a message that reveals your genuine sentiments.
Traditional 1st Anniversary Theme for Gifts: Paper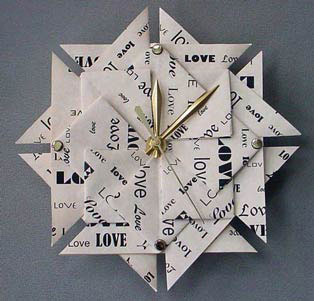 The concept of paper has been linked to the first anniversary with two symbolic meanings:
First, paper is like a blank canvas, reflecting the unwritten future of the couple. The pair will work together to create their own story over the course of their marriage.
Second, paper is readily torn, reminding the couple that after only one year of marriage, they must retain their trust and faith in each other during the challenges and strains they will encounter ahead.
Modern 1st Anniversary Theme for Gifts: Clock
Representing the timelessness nature of love, a clock-based gift is now often given on the occasion of the first anniversary.
Gemstone: Golden Jewellery
Alternate Stone: Peridot or Pearl
Colour: Yellow or Gold
Floral Theme: Pansy, Carnation, Orange Blossom, **Gold or Yellow Rose
Pansies symbolise thoughtfulness, relating to the consideration a couple must show for each other in a union.
Carnations hold a meaning of passion and new love.
Orange blossoms hold several meanings within a marital union: purity, truth and fruitfulness.
**The gold or yellow rose is a romantic alternative for this anniversary, in keeping with the colour theme, and the symbol of eternal love that a rose represents.
Traditional Anniversary Gift Suggestions
• Art print
• Book
• Calendar
• Jigsaw puzzle
• Magazine subscription
• Paperweight
• Postcards
• Map of a route to travel somewhere special together
• Sheet of music (favourite song)
• Stationery
• Tickets (movies, musical show, theatre, sports game etc.)
Modern Anniversary Gift Suggestions
• Alarm clock
• Egg timer
• Antique clock
• Gold jewellery (bracelet, ring, earrings, necklace)
• Gold-Dipped Eternity Rose (signifying the golden jewellery theme and gold colour theme for this anniversary)
• Kitchen timer
• Outdoor sundial
• Flower-based gifts related to this anniversary (pansies, orange blossoms or carnations), for example: plant, perfume, scented candles, bouquet of flowers, art print
• Peridot or pearl jewellery (alternate stones for this anniversary)
• Wall clock
• Wrist watch
• Yellow Glazed Eternity Rose (signifying the yellow colour theme for this anniversary)
Here we present a video-clip of the Yellow Glazed Eternity Rose
Below are the next 5 anniversary themes to give you some further insight into this important occasion:
2nd wedding anniversary gift ideas | 3rd wedding anniversary gift ideas | 4th wedding anniversary gift ideas |
5th wedding anniversary gift ideas | 6th wedding anniversary gift ideas | The Anniversary Tradition |