When the 28th anniversary comes around, help your loved one(s) to celebrate by using our list of established gift theme ideas to show them how much you care. Use your instincts and create a unique present that they are certain to treasure.
Modern 28th Anniversary Theme for Gifts: Orchids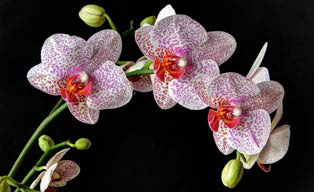 In ancient Greek times, the orchid was linked with virility, while in China it holds a meaning of many children. Orchids are also known for their elegance and represent perfection, nobility and friendship.
Gemstone*: Amethyst or Orchid Tourmaline
*There is no gemstone for the 28th wedding anniversary listed by the American Gem Trade Association. These stones are listed as alternate options according to other sources.

Colour: Lavender
Floral Theme: Orchid
Modern Anniversary Gift Suggestions
• Book on orchids
• Bouquet of orchids
• Other orchid-related gifts (art print, paperweight, stationery, scented candles)
• Orchid-shaped jewellery (pendant, earrings, ring-setting)
• Orchid tourmaline or amethyst jewellery (alternate stone options for this anniversary)
Below are some more important anniversary themes headed your way:
29th wedding anniversary gift ideas | 30th wedding anniversary gift ideas | 35th wedding anniversary gift ideas |
40th wedding anniversary gift ideas | 45th wedding anniversary gift ideas |